A Message from Lenawee County Superintendents Michigan Governor Whitmer Announces Statewide School Closings Due to Coronavirus March 13, 2020Dear APS Community,
As you know things are changing rapidly, so I wanted to get what information we know out there now as soon as possible and then add information as things evolve.
1. Effective 4pm today all APS buildings will be closed. No students or parents are to be on school property until further notice.
During the State of Emergency most staff will not be working and will not be able to access the building so parents and students will need to take all personal items they need home with them today (this should include medication in the office too if you need that supply at home).
2. As of now, Spring Break is still scheduled to take place April 6-10.
3. All athletic practices, extra curricular events, and rehearsals are cancelled until further notice (including both on and off campus).
4. We encourage healthy and engaging activities for your students to do at home to prevent the spread of COVID-19 and to keep their mind engaged. The public library and online materials can help assist students during this time.
8. Food Service will be provided and specifics will be shared on how "Grab and Go" meals will be distributed.
9. We have had no guidance from MDE on if these days will be required to be made up or not. I am sure more to come on this.
This is ever changing and evolving so expect some of the things I just said to be updated and more to come. Thanks for your cooperation in helping our kids and keeping our community safe.
I am sure there will be questions and know that we will post updates on the district website as well as email alerts.
Safe and as always GO MAPLES!!!
Bob Behnke
Superintendent
---
A Message from Lenawee County Superintendents Michigan Governor Whitmer Announces Statewide School Closings Due to Coronavirus March 13, 2020 - Click the following image for more information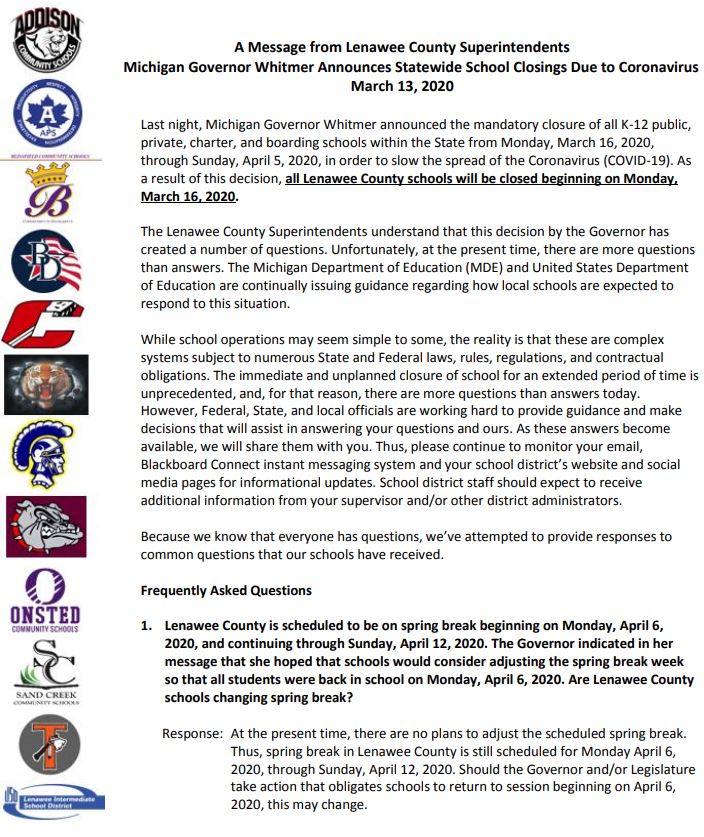 ---